The Raw by Twins in Seoul is a vegan café that was established in May 2018. This place serves a wide array of raw desserts along with some other delicious snacks, meals, and cold drinks. They have bakery products which are as scrumptious as anything. They also give their customers the option of take-out, accept credit cards, and give free wifi for their ease and added enjoyment. The twin girls who own this place are super friendly, great to talk to and make the most delicious cakes available in Seoul, Korea. You can also visit their Facebook page for more information.
The Raw by Twins in Seoul provides its customers with Vegan, Raw, Western, and gluten-free products.
How to Get to this Place
The main location of The Raw by Twins is 436-8 Hapjeong-dong Mapo-gu, Seoul, South Korea, 04021. It remains closed on Mondays and Tuesdays and opens on Wednesdays onwards. The timings of this place may wary so, you'll have to call first to confirm the timings. But the general schedule is:
Wednesday – Sunday from 11:30 am to 7 pm
The address of this place is quite simple, and you can easily reach this amazing vegan heaven by following the correct route. For tourists, it will be very fun to locate this place by following the directions through beautifully winding streets and roads.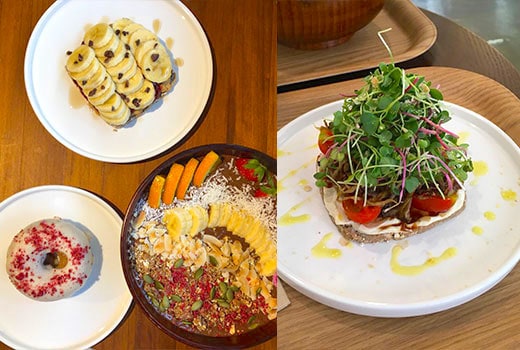 Best Menu
The best part of The Raw by Twins is that they include healthy foods with no added sugar and desserts made without the use of fire or oven to retain their freshness and raw goodness. Their raw donuts, bliss balls or fudgy balls, rawnola, and cakes are incredible. They also launch a special menu from time to time, and it is actually extraordinary and tasty. Their special treats also include pumpkin cream donuts which are exceptionally delicious. Not to mention the Berry donut cake, chocolate brownies, tofu vegan beny with mustard hollandaise sauce, and banoffee tart are amazing. The gluten-free menu really attracts a lot of customers as not a lot of vegan cafes have gluten-free foods on their menu.
Atmosphere
Although they only give take-out services, their little shop is very beautiful and aesthetically pleasing. The area where the shop is located is also very inviting and serene. The interior and exterior of the shop are very well decorated and not over the top in any way. The staff there is also very friendly, adding to the pleasant environment of the vegan café.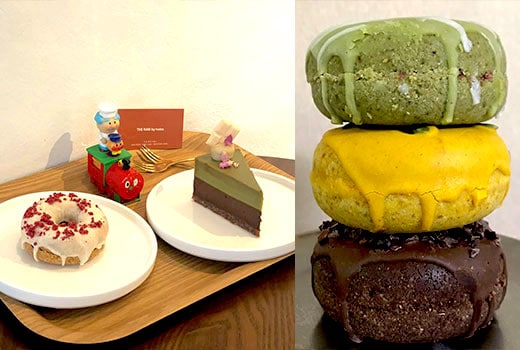 Vegan Dessert
The vegan desserts of The Raw by Twin include tarts, cake balls, raw donuts etc. You can also get tea, green smoothies, berry smoothies, and coffee in the vegan drinks menu. The dark chocolate cream donut is an exceptional treat included in the vegan dessert. They also have smashed avocado sandwiches which are excellent. These vegan desserts are not only 100 percent raw but also very delicious and nutritious.
You may also like: