Vegetus Vegetarian Restaurant is an all-vegan restaurant and café in Seoul that opened in the month of November 2016. It is near Itaewon in the Haebangchon neighborhood, one of the trendiest places to visit. Besides, Vegetus serves a wide array of delicious items like burgers, pasta, pastries, pizzas, and other side dishes. Also, their menu has categories that include American, Mexican, Italian, Fusion foods, and bakery items. Plus, Coffee, Tea, Smoothie, Wine, Beer, and Cocktails are available! They give their customers free Wi-Fi service and accept credit cards too.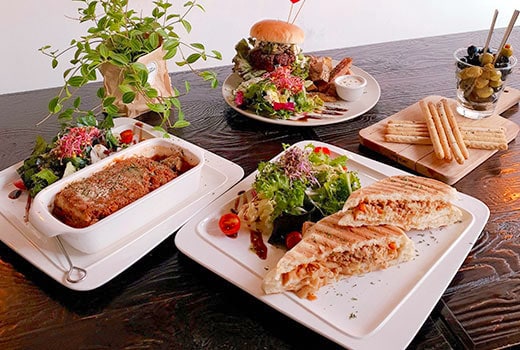 Vegetus Vegetarian Restaurant is one of the most famous vegan restaurants in Seoul.
Best Menu at Vegetus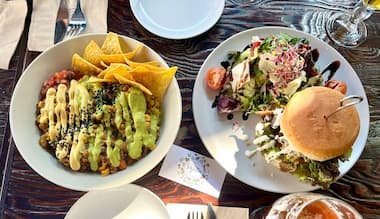 The burgers and nachos this place offers are superb, quite filling, and healthy as well. Furthermore, the buns used for the burgers are organic too. The burrito bowls and salads are mouthwatering. The bulgogi wrap and mac 'n cheese are their specialties. The Caprese panini served here is exceptional in its taste and presentation. Also, the lentil burgers and mushroom cream pasta are quite yummy too. Everyone should try their Bolognese pasta and the bean salad.
Vegetus Burger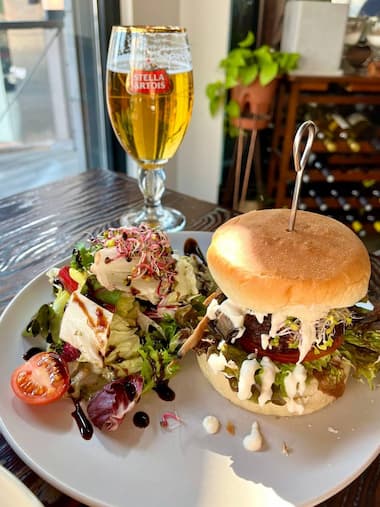 I ordered the Vegetus Burger, the signature menu of this vegan restaurant that I had looked for in advance. It was a clean burger with various vegetables such as organic bun, crispy lentil patty, roasted eggplant, onion, and mushrooms, seasoned with cilantro and vegetarian mayonnaise sauce. The cilantro flavor is not that strong, so I think anyone can eat it without any burden. The lentil patty is always right that tastes familiar to vegetarians. Another peculiarity of this burger is the mushrooms. Instead of button mushrooms, which are often used in burgers, the Vegetus Burger contains oyster mushrooms that make it much more savory.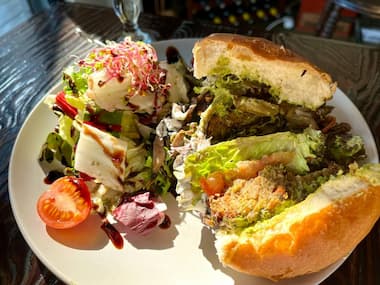 However, personally, I felt that if lettuce or romaine had been added instead of lettuce which is well known to be wrapped together when eating Korea BBQ, the texture would have been crisper and better. Also, for me, it was a difficult decision to choose between a side salad or fries.🤦🏻‍♀️ hehehe How good would it be to give them both?😆
Burrito Bowl (Gluten-free)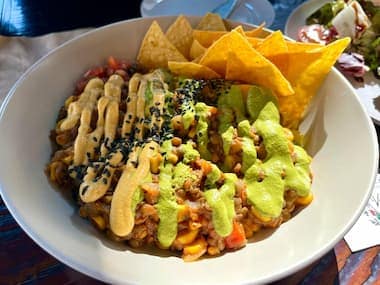 The burrito bowl is turmeric long grain rice with lentils, salsa, cashew nut cheese sauce, and cilantro sauce. More, you can't go wrong with nacho chips in Mexican food! Even though it was vegan, it was visually appealing with the authentic Mexican taste. It has an exotic flavor of cumin like chili con carne, a Mexican bean dish. However, we both are Korean, my friend who went with me had a feeling needed some spicy while the middle of eating, so I ended up bringing the hot sauce on the side of the restaurant to the table. Clear all dishes with chili! 😉
Vegetus Desserts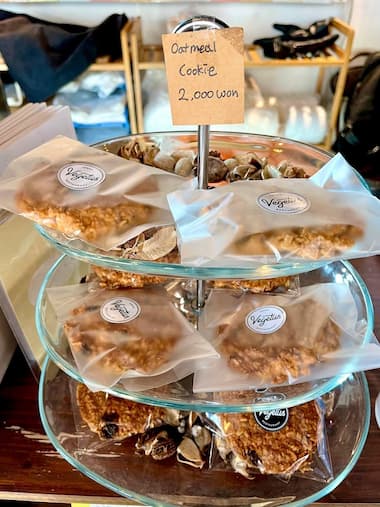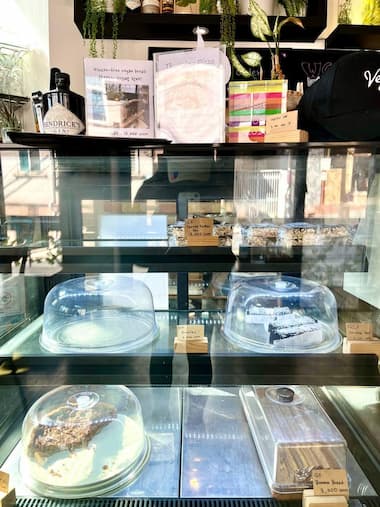 You would never pass the peanut butter bar and the oatmeal cookie at the counter. That is lovely and tasty. Moreover, the gluten-free carrot cake with a tinge of cinnamon flavor and gluten-free coconut cake here are super fluffy and delicious. What's more, Banana bread and chocolate muffin is my favorite with soft and moisture texture. Their café latte and warm fudge brownie are beyond delicious. Lastly, Home-made lemonade and their kombucha taste amazing.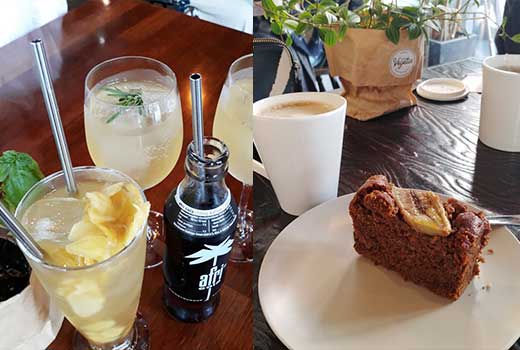 Vegetus Menu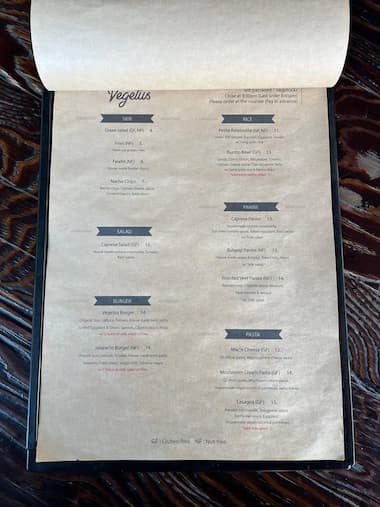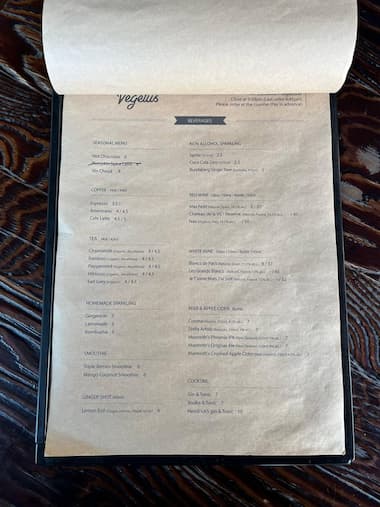 *GF: Gluten-free / NF: Nut-free
Side
| | |
| --- | --- |
| Green Salad (GF, NF) | 4,000 KRW |
| Fries (NF) – Fresh cut potato fries | 5,000 KRW |
| Falafel (NF) – House made Farafel 8pcs | 8,000 KRW |
| Nacho Chips w/ Cashew cheese sauce, Coconut bacon, Salasa sauce | 7,000 KRW |
Salad
| | |
| --- | --- |
| Caprese Salad (GF) – House made cashew mozzarella, Tomato, Basil pesto | 15,000 KRW |
Burger
| | |
| --- | --- |
| Vegetus Burger – Organic bun, Tomato, House made lentil patty, Grilled Eggplant & Onion, Sprouts, Cilantro sauce, Mayo | 14,000 KRW |
| Jalapeno Burger (NF) – Organic bun, Tomato, House made lentil patty, Jalapeno, Fried onion, Vegan Chilli, Sriracha mayo | 14,000 KRW |
Rice
| | |
| --- | --- |
| Petite Ratatiuille (GF, NF) – Onion, Bell pepper, Zucchini, Eggplant, Tomato w/ Ling grain rice | 11,000 KRW |
| Burrito Bowl (GF) – Lentils, Corns, Onion, Bell pepper, Tomato, Cashew cheese sauce, Cilantro sauce, Salsa w/ Long grain rice & Nacho chips | 13,000 KRW |
Panini
| | |
| --- | --- |
| Caprese Panini – Housemade cashew mozzarella, Sun dried tomato sauce, Baked eggplant, Basil pesto w/ Side salad | 13,000 KRW |
| Bulgogi Panini (NF) – House made vegan Bulgogi, Baked tofu, Mayo w/ Side salad | 13,000 KRW |
| Roasted Veef Panini (NF) – Roasted veef, Chipotle sauce, Mustard, Fresh tomato & lettuce w/ Side salad | 14,000 KRW |
Pasta
| | |
| --- | --- |
| Mac'n Cheese (GF) – GF elbow pata, Vegan cashew cheese sauce | 13,000 KRW |
| Mushroom Cream Pasta (GF) – GF short pasta, Mushroom cream sauce, Housemade vegan coconut parmesan, baby leaves | 14,000 KRW |
| Lasagna (GF) – Pressed tofu noodle, Bolognese sauce, Bechamel sauce, Eggplant, Housemade vegan coconut parmesan | 15,000 KRW |
Beverages
| | |
| --- | --- |
| Coffee – Espresso, Americano, Cafe Latte | 3,500 ~ 5,000 KRW |
| Tea – Chamomile, Bamboo, Pepperment, Hibiscie, Earl Gray | 4,000 ~ 4,500 KRW |
| Homemade sparkling – Gingerade, Lemonade, Kombucha | 5,000 KRW |
| Smoothie – Triple Berries Smoothie, Mango Coconut Smoothie | 6,000 KRW |
| Ginger Shot (60ml) – Lemon Evil | 4,000 KRW |
| Non Alcohol Sparkling – Sprite, Coca Cola Zero, Bundaberg Ginger Beer | 2,500 ~ 5,000 KRW |
| Red Wine ( Glass 150ml/ Bottle 750ml) – Mas Petit, Chateau de la VC, Mau | 8,000 ~ 50,000 KRW |
| White Wine – Blacs de Pacs, Les Grands Blancs, Je T'aime Mais J'ai Soif | 8,000 ~ 52,000 KRW |
| Beer & Apple Cider (Bottle) – Corona, Stella Artois, Montheith's Phoenix IPA/ Origial Ale/ Crushed Apple Cider | 7,000 KRW |
| Cocktail – Gin&Tonic, Vodka&Tonic, Hendrick's gin & Tonic | 7,000 ~ 10,000 KRW |
Vegetus Atmosphere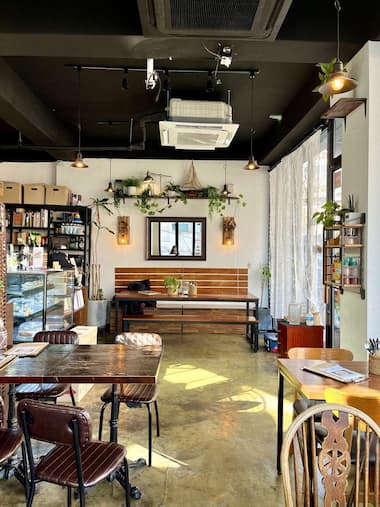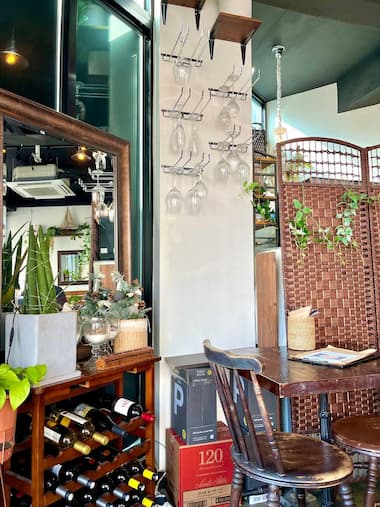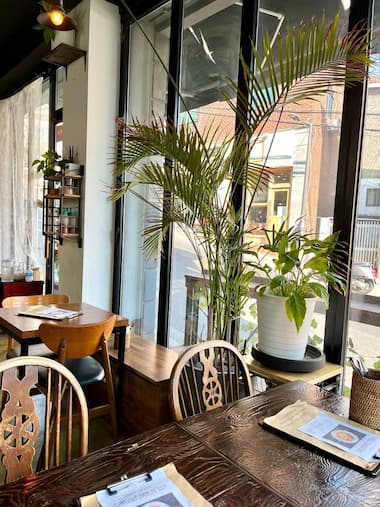 The atmosphere of Vegetus vegan café and restaurant is really calm, relaxed, and cozy. Additionally, they have outdoor seating which attracts more and more people. The décor is adorable and adorned with beautiful plants. As well as they have incredible quality, plating, and taste. The staff is friendly and speaks English. Tasty food in a serene and charming ambiance is a sight for sore eyes.
How to Get to Vegetus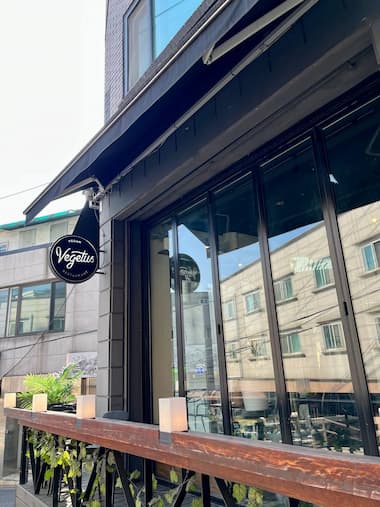 The address of this place is Sinheung-ro 59, Yongsan-gu, Seoul, South Korea, 04338. You can contact them using the number, +82 7088245959 for more details. The timings can differ from time to time, so calling them to confirm timings is always suggested so that you don't face any problems after reaching this place. Besides all the delicious items they have, they also serve nutritional supplements for a healthy you. You can check their Facebook page or the website if you want to know more about them. This place remains closed on Wednesday and the general timings for the rest of the days are:
Wednesday Closed
Monday, Tuesday, Thursday, Friday, Saturday, Sunday from 12:00 pm to 9:30 pm
Break time: Weekdays 3pm – 5pm / Weekend 3 pm to 4:30 pm
There shouldn't be any difficulty in finding this place if you follow the correct address. For your information, Naver Map works better than Google Maps in Korea. Click here to see the best useful apps for Korea Travel.
You may also like