Plant vegetarian restaurant in Seoul is an all-vegan restaurant that offers its customers fresh meals. They have wraps, salads, veggie burgers, sandwiches, lentil bowls, and pasta for dinner. Also, they have a variety of craft beers, kombucha on tap, fresh cold-pressed juices, and smoothies. Plus, they accept reservations but same-day reservations, reservations on Saturdays, and reservations on national holidays are not allowed. Moreover, Plant remains closed on Sundays, and the kitchen closes at 9:00 pm. They have various categories from which you can choose from. Categories include Vegan, American, Organic, fast Food, Juice Bar, Beer/Wine, Asian, and Bakery products. The best part, they also have the option of take-outs available for their customers. They accept credit cards and have free Wi-Fi too so that their customers don't have any inconveniences. Not to mention, you can bring your pets in as well!
Plant vegetarian restaurant is a vegan-friendly restaurant perfect for the entire family.
How to Get to Plant Restaurant
The main address of Plant vegetarian restaurant is the 2nd Fl, Itaewon-dong 130-43, Yongsan-gu, Itaewon, Seoul, South Korea, 140-20. You can contact them using the number, +82-27491981 for more details. They have set timings for their restaurant, but depending on various factors, the timings can change. You can check their website plantcafeseoul.com or their Facebook page in case you have any doubts. It is always advised that you confirm the timings beforehand. This place remains closed on Sundays and the general timings for the rest of the days are:
Monday – Sunday from 11:00 am to 10:00 pm
You can follow the google maps to find this place, or you can ask around. It won't be challenging to travel to this place either.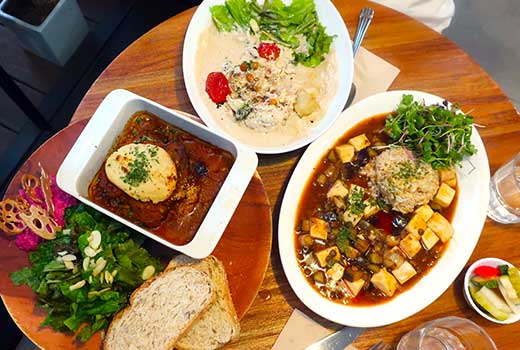 Best Menu At Plant Restaurant
They have great burgers and veggie curry. They also have snack options which include a delicious bowl of hummus with toast. The bread with this combo tastes great and goes well with the hummus. Plus, they have an excellent seasonal menu for cookies and drinks. We also recommend the Lentil veggie bowl, it should be a must-try for everyone. Also, the breakfast burrito is a great choice. They also have a vegan hamburger that tastes really good. Moreover, the chili burger with fries tastes heavenly. 
Atmosphere
The atmosphere of Plants vegan café and restaurant is serene, calm, and beautiful, and the place is modern with lots of plant decorations. Their menus come with detailed allergy info which proves to be quite helpful. The ambiance is charming, and the interior is cozy. The staff is friendly and helpful, and the interior is adorned with fun decorations. Plus, this place is really easy to find from the subway.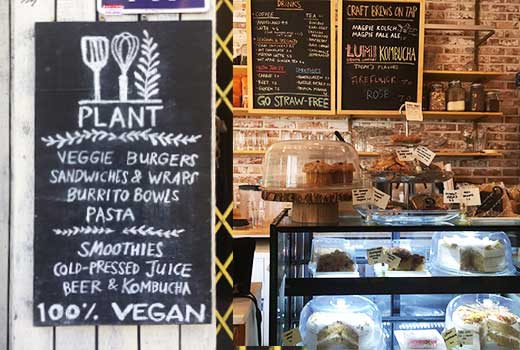 Vegan Dessert
The vegan dessert cake and milkshakes taste delicious. The Oreo brownie should not be missed at any cost. Also, the earl grey cake of this place is a specialty. The fruit and veggie smoothies are exceptionally good and healthy as well.
You will also like