Café Molinari is a vegetarian restaurant in Myeongdong. They serve meat along with some options of vegan items. It is an Italian restaurant in Seoul and provides its customers with a separate vegan menu that comes with starters and main dishes. The starters of the vegan menu include grilled vegetables and rocket salad. The main dishes include Mediterranean goods, pizzas, pasta, gnocchi, and risotto. In addition, there are different categories for different customers to choose from that include Lacto foods, ovo vegetarian items, pizza, Italian, non-veg, beer, and wine.
Also, they accept credit cards to facilitate their customers and provide their services at fairly moderate prices. You can reserve your place beforehand too by calling +82-27711808 and also check out their instagram page Café Molinari. Furthermore, you can taste the food of Han Sang-hoon Chef, a former cook at the presidential office Cheong Wa Dae. His selection of handcrafted beer will be worth it. We recommend it here if you're a beer maniac!
Café Molinari Vegetarian Restaurant in Myeongdong Area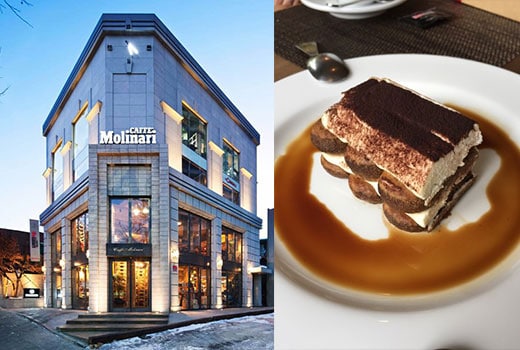 How to Get to this Place
The main location of Café Molinari is 60-2, Hoehyeon-dong 2-ga, Jung-gu, Seoul, South Korea. You can call them using the number +82-27711808 for more details. To find the general timings of this café and restaurant, check their website or go to their social media profiles. Also, the opening and closing timings can differ from time to time. So confirming first before going to this place is the best option. The location is really easy to follow. Reaching this place is a fun experience to have when you wind through beautiful roads and streets of Myeongdong.
Best Menu
The grilled veggie appetizer is a really good treat for all the newcomers. Plus, the gnocchi dish has its own distinct flavours. They cook their pasta with fantastic perfection, and the sauces are also nicely flavored. The coffee and cake are delicious. The carbonara pasta and tiramisu are in good portions and tasty. Mushroom risotto and panne arrabiatta are genuinely authentic and mouthwatering. Their orange cake with a cold latte is beyond delicious. The red wine is usually recommended by the staff. The red wine is Cabernet Sauvignon, smooth and not tannin, very easy to drink. Moreover, they have non-vegan dishes to please your entire family and friends.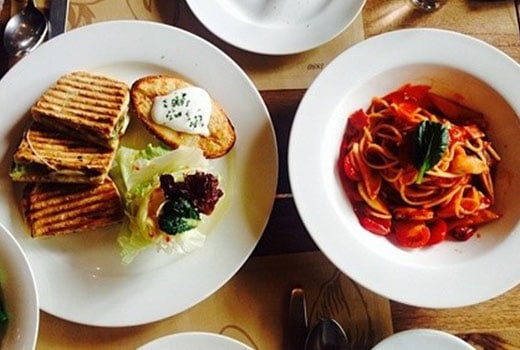 Atmosphere
The atmosphere is quiet and peaceful and gives a really good vibe. They also have separate rooms for gatherings and families. Its open till late at night so their customers can fully enjoy without rushing because of the early closing hours. The owner is welcoming, and the staff is friendly and easy to talk to as they speak English as well. The environment of this place is posh, cosy, and they offer generous servings. They have comfy table service and patio seating area as well. Plus, you are treated with warm chunky bread and dipping oil before your order is brought to your table. The interior of this place is also lovely. They also have an English menu and food is served quickly and efficiently.
Vegan Desserts
Café Molinari Vegetarian Restaurant in Myeongdong has an exceptional variety of vegan desserts which include vegan coffee, cakes, and other such baked goods. These vegan treats are super delicious, mouthwatering, and flavorful. Everything is so delicious that you wouldn't want to miss out on anything. They also have irresistible vegan drinks that you would love.
You may also like