The Bread Blue is a vegan bakery in Seoul, South Korea. This vegan bakery is managed by the owner of the former Veggie Holic Bakery. It serves a wide range of vegan baked goods that include sweet and savory baked items. Moreover, the Bread Blue Vegan Bakery does serve drinks that contain dairy; note that soy milk is available at this place.
All of the Bread Blue Bakery items are a hundred percent vegan.
How to Get to Here
The main address of this place is 54-58 Nogosan-dong, Mapo-gu, Nogosan-dong, Seoul, South Korea. You can contact them using the number, +82-7044040723 for more details. You can also visit The Bread Blue Korean website or The Bread Blue Facebook page if you want to know more about the place and the owner. The timings can differ from time to time, but the general timings of The Bread Blue vegan bakery are:
Monday from 10:00 am to 9:00 pm
Tuesday – Saturday from 10:00 am to 10:00 pm
Sunday from 08:00 am to 9:00 pm
You can easily find this place by following the address. It is located near Sinchon Station, and you can walk to this place as well. Make sure you have confirmed the timings before going to this place so that you don't face any inconvenience.
Not only can you find this bakery in Sinchon, but also in Seocho, Jamsil, Pangyo, and Songdo.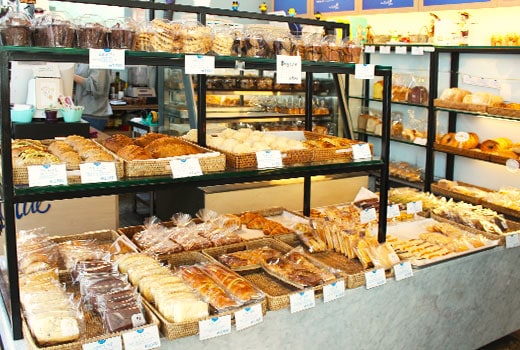 Best Menu
Their vegan menu includes burgers which are amazing. Their savory loaves of bread are great too. The pizza bread and red bean buns taste delicious. The sweet potato baguette, along with green tea Frappuccino is straight from heaven. The green tea latte and cafe americano are really good. The split garlic bread was vegan and buttery too, that made it exceptionally good.
Atmosphere
The cafe's name is from the American Coffee company Blue Bottle. The interior is very clean, organized, and comfortable.
The Bread Blue vegan bakery is adorable and has a cozy interior. The atmosphere is calm and relaxed. There is a seating area inside the bakery, which is pretty comfy. The fantastic aroma of baked goods adds to the perfection of this place. Their staff is courteous and friendly and ready to help their customers choose what they would like the best. The owner is very welcoming and accommodating too. The staff speaks English to cater to the needs of their foreign customers well. This place also has a restroom to facilitate its customers.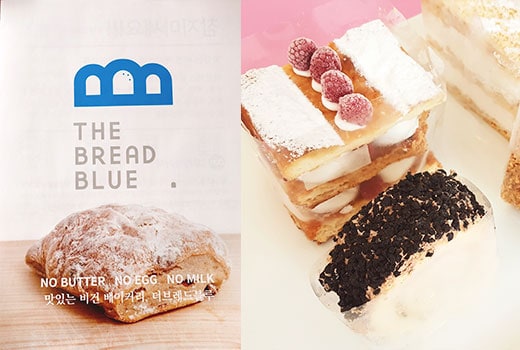 Vegan Desserts
Their cinnamon rolls are a popular vegan dessert on their menu. The chocolate cone or otherwise known as croissants are really delicious. Lemon tarts are very flavorful and mouthwatering vegan treats. Their chocolate custard is majestically smooth and creamy. Their almond bread is scrumptious. The vegan ice cream bar tastes excellent. The cream-filled rolls and cookies they serve are very crunchy and tasty. Their coffee and fresh pastries make for a great vegan dessert.
You may also like