Ssong Thai Vegan-friendly Restaurants in Yeoksamdong, Gangnam
I missed eating out so much due to Covid-19. Finally, I had a delicious dinner with my family after a long time. I chose this Thai restaurant for me (as a Pesco vegetarian) and my family, who love Thai foods so much. I want to share my review of this unique hidden restaurant in Gangnam called 'Ssong Thai,' a super vegan-friendly restaurant. Almost all menus can be vegan dishes which is a big plus for vegetarians!
Ssong Thai Appetizer
Looking at the menu, most of the items have vegan options. A variety of alcoholic beverages such as beer, soju, wine, makgeolli, and cocktails are also available at this Thai restaurant in Gangnam. This is a big hand for us. 😆 We decided to try each type of Thai appetizer, noodle, rice, and soup.
Som Tam (vegan / regular) 쏨탐
15,000 won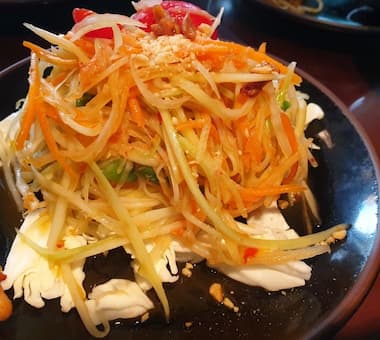 Som Tam is a spicy and crunchy papaya salad made by adding coconut sugar. It is one of the most eaten appetizers as it is refreshing and arouses the taste buds. You can choose vegan/regular (I guess vegan Som Tam will be served without fish sauce). Also, you adjust the spiciness of Som Tam, less spicy/middle/more piquant. So ask when you order!
Pak Boong Fai Daeng (vegan / regular) 팍붕화이뎅
14,000 won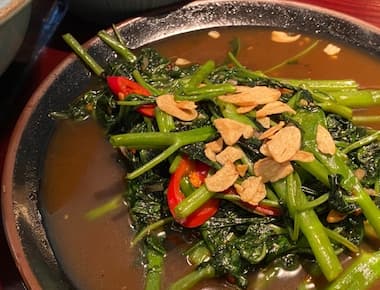 To be honest, I've never eaten it in Thailand, so it's vague to compare. But the stir-fried morning glory called Thai-style kimchi that I encountered for the first time was quite good than I thought. It has a texture similar to water parsley, salty and slightly spicy, and a refreshing taste that is evenly coated with garlic flavor. Would it be said that most people can eat it without objection?
Tod Man Goong (4ea) 텃만꿍
20,000 won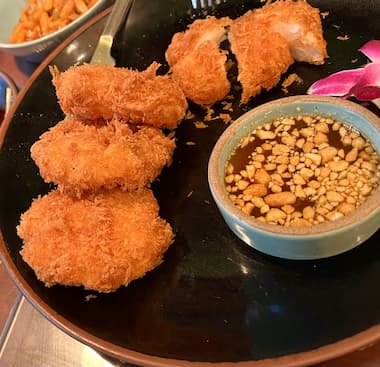 Tod Man Goong is a Thai-style deep-fried shrimp, literally minced whole shrimp. As you can feel the plump shrimp in your mouth when you take a bite, you can think that the shrimp have been coarsely minced. The taste is quite different from the shrimp tempura we usually eat. This fried shrimp fits my taste perfectly~ It's delicious without feeling greasy.
Besides, there's fried eggplant and vegetable spring roll as an appetizer.
Ssong Thai Noodle
Pad Thai 팟타이 (vegan / regular)
17,000 won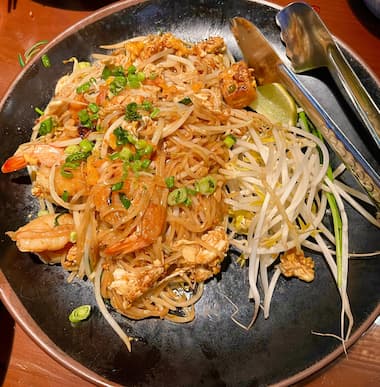 Next, Pad Thai is served, the representative dish that comes to mind first when thinking of Thai food. Like the typical Thai stir-fried noodles, the mung-bean sprouts were crispy, the taste was not excessive, and the neat plating was also lovely. You can choose between chicken and shrimp and order to make it spicy. Additional noodles are 1,500 won.
In addition, the other three types of noodle menus available at Song Thai include Kuai Tiao Pak, a vegan rice noodle soup, and basic Thai rice noodles, Kuai Tiao, and Pad See Ew, a stir-fried noodle with vegetables and Ssong Thai's special vegan sauce.
Ssong Thai Soup
Lemongrass Soup 레몬그라스 (rice)
16,000 won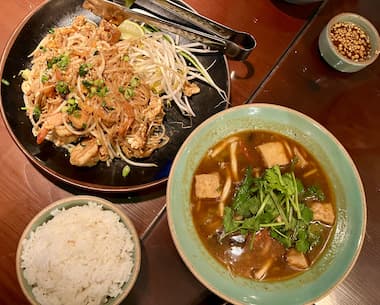 The lemongrass soup had an exotic taste different from Tom Yum Goong. Ingredients such as celery, onion, cherry tomatoes, and fried tofu mixed with fresh lime sauce and soy sauce were excellent. It also comes with rice, so it seems to be a good meal for lunch.
Tom Yum Goong 똠양꿍 (rice/noodle) (vegan / regular)
17,000 won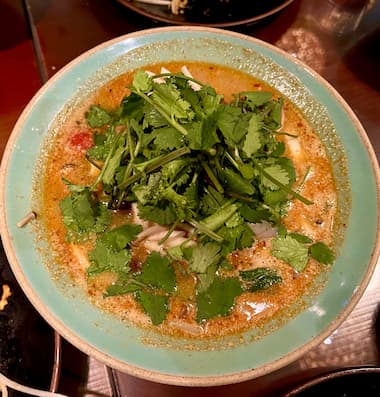 I thought I would regret it if I didn't eat Tom Yum Goong, one of the world's top three soups. Just as the taste of kimchi stew in Korea differs from house to house, in Thailand, Tom Yum Goong tastes different. You could choose between noodles and rice, and lemongrass came with rice, so we ordered noodles. What's more, it's nice to be able to control the spiciness. Additional noodles are 1500 won.
Ssong Thai Curry
Poo Pod Phong Curry 뿌빳퐁커리 
27,000 won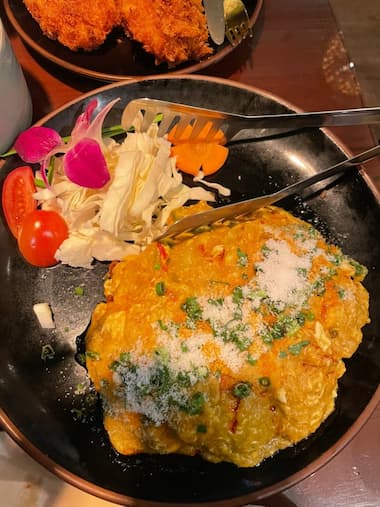 It would be disappointing if I didn't order 'Poo Pad Phong Curry', which is considered a famous dish in Thailand. Plenty of yellow curry on top of the fried crab is soft, served with rice. I feel full after eating all of this~ Beautifully decorated Southeast Asian-style purple flowers make the dish even more delicious. It's so good! Plus, you can order more by adding 10,000 won.
If you want to try spicy curry, there is green curry with bell pepper.
Ssong Thai Atmosphere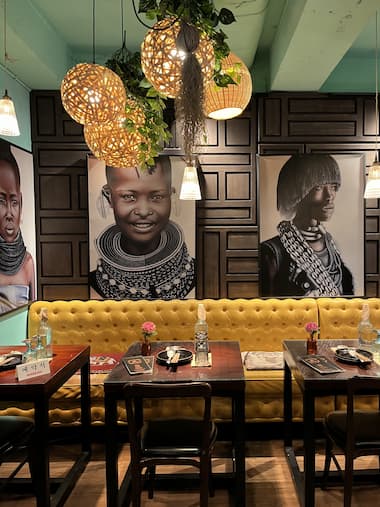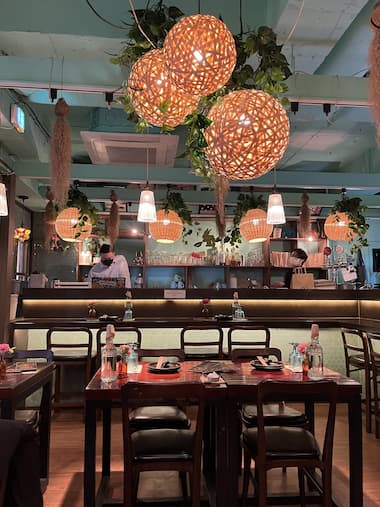 Because It's a popular restaurant among locals, I made a reservation in advance. Although the restaurant is not large, the colors from the exterior and the paintings on the inside walls create an authentic atmosphere. I think it is a place where you can feel the feeling of Thailand in Korea. There is a vase on each table, and the water cup is a goblet. All are neatly arranged, making it suitable for everyone, including couples, friends, and family.
How to get to Ssong Thai
Ssong Thai has four branches in Seoul and one in Jeju.
Itaewon Branch
Address: 7-2, Itaewon-ro 20ga-gil, Yongsan-gu, Seoul, Republic of Korea
Open hours: Everyday 10:00 – 00:00 (Last order 23:30) | Break time 15:00 – 16:00
Phone: 0507-1303-2495
Yeoksam, Gangnam Branch
Address: 51, Teheran-ro 39-gil, Gangnam-gu, Seoul, Republic of Korea
Open hours: Everyday 11:00 – 22:00 (Last order 21:30) | Break time 15:00 – 16:00
Phone: 02-554-0342
Sinyongsan Branch
Address: 39-5, Hangang-daero 40-gil, Yongsan-gu, Seoul, Republic of Korea
Open hours: Everyday 11:30 – 21:20 (Last order 20:30) | Break time 15:00 – 16:30
Phone: 0507-1334-5170
Beotigogae Branch
Address: 56, Dasan-ro, Jung-gu, Seoul, Republic of Korea
Open hours: Everyday 11:30 – 22:00 (Last order 21:00) | Break time 15:00 – 16:30
Phone: 010-9270-0067
Jeju Branch
Address: 29-9, Jungmungwangwang-ro 72beon-gil, Seogwipo-si, Jeju-do, Republic of Korea
Open hours: Everyday 12:00 – 21:00 (Last order 20:00) | Break time 15:30 – 16:30
Phone: 064-738-7831
Final words
The whole family, including me, ate the seven menu items we ordered very deliciously. The taste is good, and the atmosphere is good~ They even give me a gift of fried biscuits when I check out, which makes me feel better. I want to visit the main branch in Itaewon later and try all the other menus! I highly recommend this Thai restaurant in Seoul to all of you guys!
Read more: