Best Vegan Restaurants in Hongdae
What will make a vegan fall for Korea? The wonderful vegan restaurants in Seoul offers vegan food in the most authentic way you can imagine. There are not only fancy and sophisticated vegan restaurants in Seoul but a number of cafes and bakeries. They make sure to live up to par on their vegan reputation. Let's see the best vegan restaurants in Hongdae!
[ Contents ]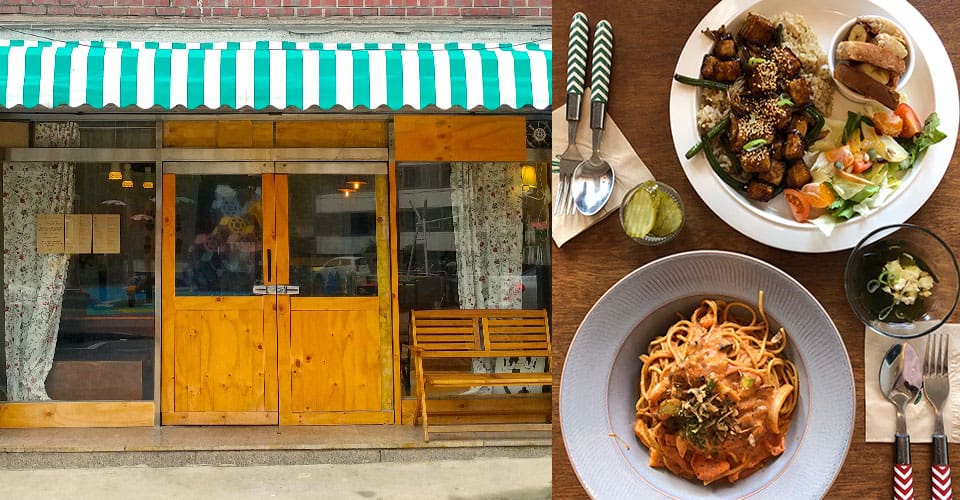 Location: 47 Poeun-ro 5-gil, Mangwon-dong, Mapo-gu, Seoul, South Korea
Open Hours: 12 – 3 pm and 5 – 9 pm
Break Time: 3 – 5pm
Closed: Monday and Sunday
This cozy little restaurant will give you a pleasant experience of enjoying your vegan meal in a nice and comfortable environment. You can consume your vegan meals here without a shred of doubt of it containing anything derived from animals.
The pizza of Around Green is worth giving a try. It's followed by sandwiches, stir-fried tofu, fried eggplant, pasta, and various vegetable platters. For the sweet-toothed vegans, this place also offers ice creams that are hand-made and a small collection of yummy cookies and cakes.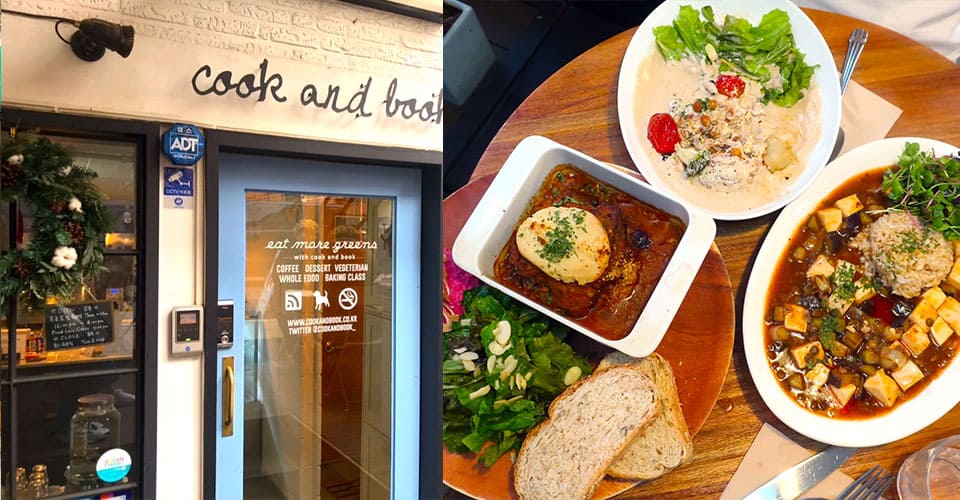 Location: 361-26 Hapjeong-dong, Mapo-gu, Seoul, South Korea
Open Hours: 12 – 8 pm
Closed: Mondays and Tuesdays
This is a lovely vegan restaurant in a commercial area of vegan Seoul. The name of Cook and Book is another great place to add to your list while you travel to Seoul. It's both a café and a restaurant. So you can expect to find lunch and dinner meals all under one roof. More, you will find the place in a very quiet and deserted alley in Hongdae. But that only means the place is perfect for introverts looking for a peaceful place to enjoy their food. It's a golden place to plan your brunch with all your vegan buddies.

Cook and Book specializes in serving assorted pickles given with food items like soups and bread. The main course involves mouth-watering food items like vegan lasagna, cauliflower broccoli wings, salads, beetroot hummus. Furthermore, muffins and cheesecakes in the dessert division and soy latte and iced Americano served as hot beverages.
Please check this post for more details about Cook and Book, a vegetarian restaurant.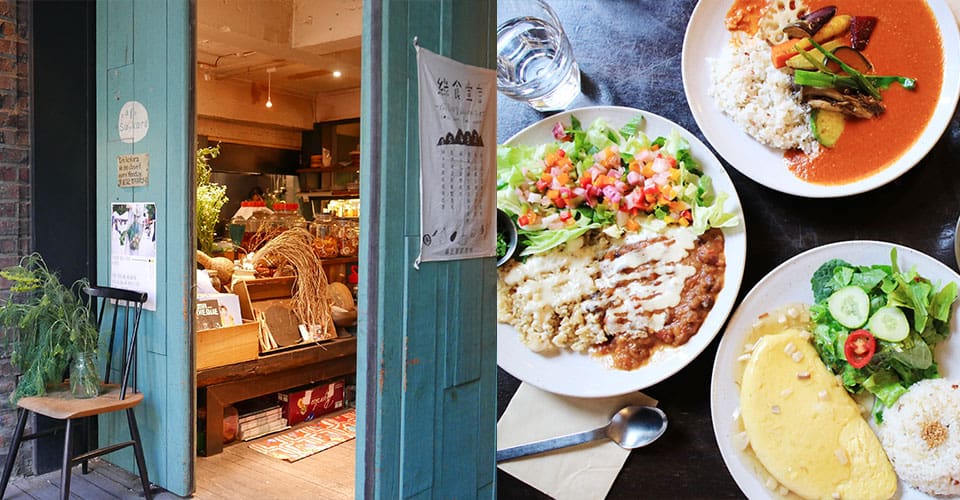 Location: 157 Wausan-ro, Seogyo-dong, Mapo-gu, Seoul, South Korea
Open Hours: 11am – Midnight
Closed: Every third Monday of the month
The word, Sukara actually comes from a Japanese source which means spoon in Korean. It's a place designed like a café and serves organic food out of the best vegan ingredients available.

The café is a magnet for vegan cheesecake lovers looking for vegan restaurants in Hongdae. A single slice of tofu cheesecake from Sukara is enough to make anyone ask for more. Moreover, you can find other healthy and vegan items on the menu. You can enjoy a meal with your friends and family in a relaxed, calm and cool atmosphere of Sukara.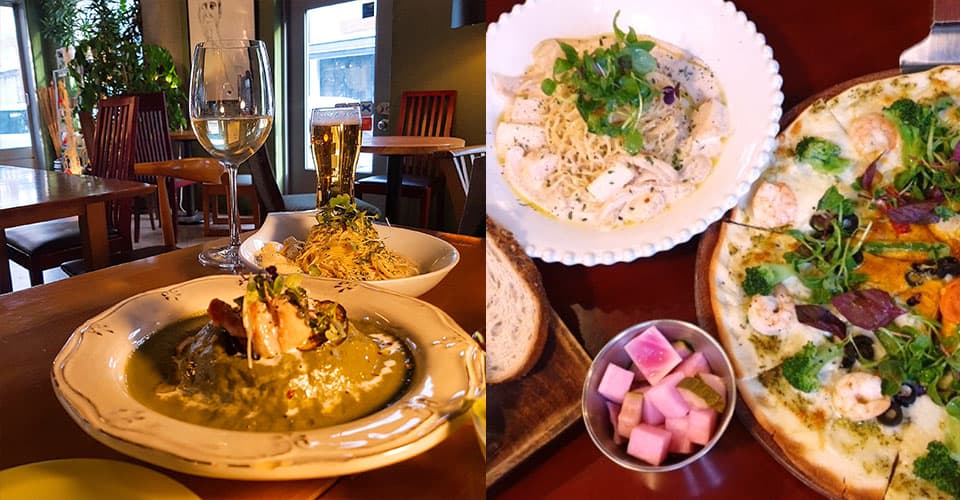 Location: 38 Wausan-ro 3-gil, Seogang-dong, Mapo-gu, Seoul, South Korea
Open Hours: 11 am – 1 am
One of the only few good vegan restaurants in Seoul that you can visit even in the late hours is Slunch Factory. It's a place for both meat lovers and non-meat lovers. Here, you can expect to find your vegan meals free of any animal ingredient in it, and like the taste of what you're being served.

They have main course meals with Korean and western-styled, desserts and beverages all available in vegan options as well.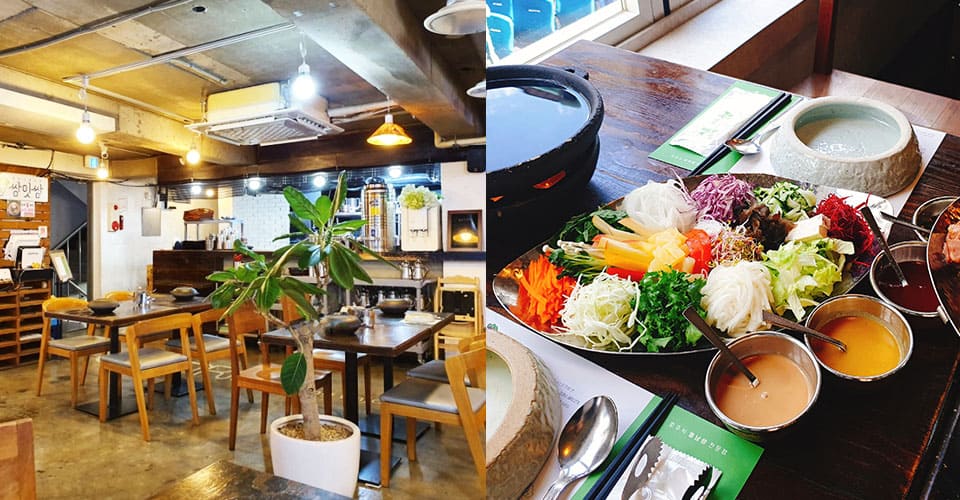 Location: 409-10, Seogyo-dong, Mapo-gu, Seoul
Open Hours: 11 am – 10 pm
Closed: Monday
To enjoy a fresh meal of your favorite vegan dishes in Seoul head over to Ssamitssam. A little crowded over the weekend but a pleasant place during the weekdays. Ssamitssam will serve you with different vegan meals of your choice like spring rolls, and sandwiches, rice noodles, soups and lots of other hearty vegan food.

People who've been to Ssamitssam can't stop singing the praises of the four assorted but equally tasty sauces served only here. They include Peanut Sauce, Mustard Sauce, Spicy Sauce, and Soy Sauce. So you can choose one of these choices and have a good vegan meal.
Pick one up on the list of the best vegan restaurants in Hongdae and enjoy your meal. 🙂